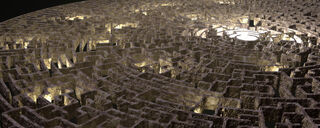 Please do not go into The Maze without
Splendor Man
to guide you. The Maze used to be a happy place, but now it is not. You will get lost, and this is a place you definitely do not wish to get lost.
As a matter of fact, Splendor Man likely will not let you go into The Maze at all. It is not safe to do so. He especially would not be happy if you found your way to the center of The Maze. Then you wouldn't be able to be friends anymore.
So please, stick to the rest of Happy-Land.